Why Choose MBC?
Operating in Ontario's Niagara Penninsula, McAvoy, Belan & Campbell is one of the area's most established firms, offering a full range of insurance products. We provide our customers with honest advice and consultation based on over 85 years of industry experience.

1. Our Unique Value Proposition MBC's value is in its relationship-based service model used with each and every customer - individuals, families, small business and large corporations alike.Since no two customers are the same, we assign a dedicated Broker or Advisor to assess each client's specific needs and then offer a range of product options for consideration.

2. Customer Choice and Flexibility Our firm represents over 25 Canadian and International Insurance and Financial Services Institutions which allows our Brokers and Advisors to offer customers tremendous choice in insurance coverages and investment plans at highly competitive rates.
3. 24 Hour a Day – 7 Day a Week Assistance Our customers can feel assured knowing that the Team at MBC can be accessed 24/7/365 to respond to your questions and to help with unplanned incidences. We are committed to providing support to our customers whenever the need may arise.
Testimonials
Our Rich History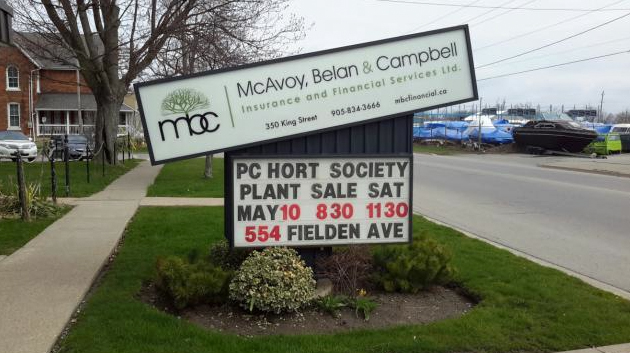 The A.P. McAvoy Agency was founded in 1923 by Ambrose McAvoy as a General Insurance Agency. It was located in the "Hydro Building" on Clarence Street in Port Colborne with the phone number TEmple4-3666 (this is still our phone number except the "TE" is now an "83"). In 1947, after the serving in World War II and graduating from the University of Toronto, his son, Ken McAvoy, returned home to continue the family business. Ken McAvoy Sr. was President of the company for over 40 years and fashioned the business into what it is today.
In 1949 Harold Parker joined the firm and we became McAvoy & Parker Ltd. Along with the name change came Life, Disability and Group Insurance lines to better service our growing clientele. Harold also managed the Real Estate services that continued until his retirement in 1984. The year 1949 also found the company relocating to our present home in the newly completed building at 350 King Street, Port Colborne. After just 10 years, space was once again a problem, so in 1962 a 1-story addition was added for 3 extra offices. The new section also housed the local Division Court first and later an expanded Real Estate section. In 1996 another addition was added to house the extra staff and computer systems.
After underwriting stints with Canadian General Insurance and Lloyds of London in England, Ken McAvoy Jr. joined the company in 1979. In 1982, after 4 years with Canadian General Insurance in Toronto and Hamilton, Tim McAvoy left his Commercial Marketing job to join the firm as well. We became McAvoy Brokers Ltd., in 1986 and while we continue to specialize in General Insurance and Group Benefit Plans, it was the 1992 addition of McAvoy-Campbell Financial Services Ltd. that enabled our Firm to become a true full-service brokerage. Heading this division was Chuck Campbell after 14 years experience as an agent and as a manager of Confederation Life. Since then, additional Financial Planners have joined Chuck Campbell and Tim McAvoy at the firm: Larry Layne in 1992, Ken Burke in 1993 and Tanya Franke in 2006.
The fall of 1998 once again was a time of major change for us. Port Colborne Insurance Brokers Ltd., (a local firm founded in 1955 by John Buscarino and originally called the J. Buscarino Agency) merged with McAvoy Brokers and McAvoy-Campbell to form McAvoy, Belan & Campbell Insurance and Financial Services Ltd. The J. Buscarino Agency was originally founded to provide general insurance and real estate services. The firm enjoyed great success and was joined by Steve Karlowich in 1956. Steve managed the insurance operations and in the early 1960's and added life and financial services as well. In 1970-71 Steve purchased the insurance operations, changed the name to Port Colborne Insurance Brokers Ltd. and continued to grow by providing outstanding service and professionalism. In 1971 Millie Belan joined PCIBL and became a partner in 1977. She was followed in 1987 by her husband Nick Belan. In 1987 they purchased the firm and continued its legacy of paying special attention to their clients' needs.